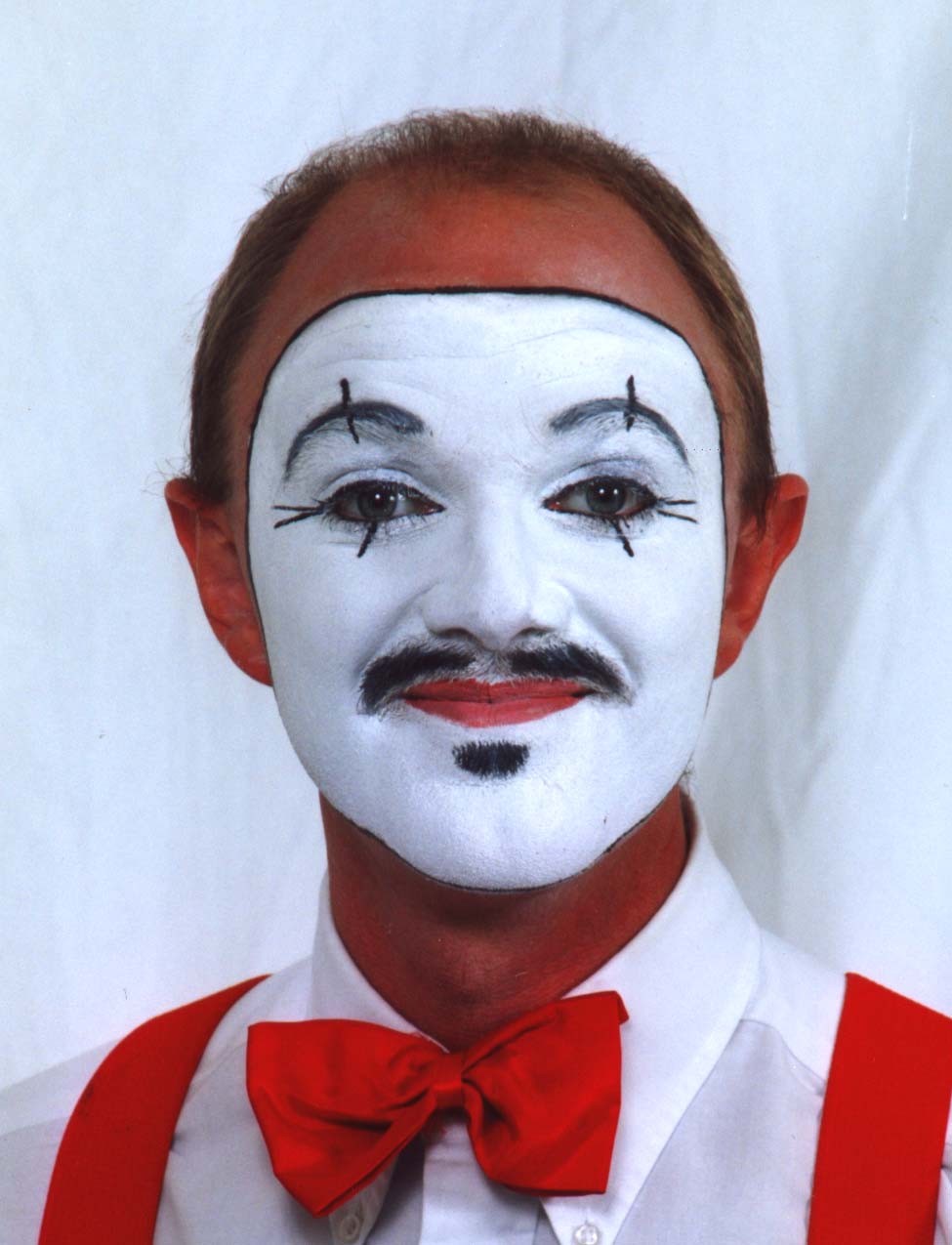 ERIC GEORGE 1997-2004
ONE OF THE ORIGINAL MEMBERS OF THE COMPANY
Eric's contributions to the creation of the company are many. He had a hand in every aspect of the work. He helped create the body of work including residencies; He had a major part in developing the company as a 501(c)(3); He was the Outreach Coordinator and Grant writer. As things change and people have different needs Eric has move on.
We Love You Eric and appreciate you many years for service.

Eric has his Masters in Theatre from SDSU where he toured with This Is Not A Pipe Dream for the '98 Theatre of the World Festival. He received his training at the Goldston & Johnson School of Mimes, and studies with Rosemarie. He is the drama coach for the STRETCH after-school literacy program. He is the creator and director of The Physics of Mime a program for young people. He is also the author of "Shaping the Future in Silence: Teaching Mime to Adolescents." He has been working as a writer and outreach Coordinator for the San Diego Repertory Theatre

His motto is: MAKE A DIFFERENCE.


Eric George
Tel: 619-989-1989

EYES:
HAIR:
HEIGHT:
WEIGHT:

Green
blond
5ft 11in
160





THEATRE:
Eric George: My Own Stuff
Venus
Lady's Not for Burning
California Screaming
27 Wagons Full of Cotton
Cherry Orchard
Dead to the Last Drop
No Deposit No Return
Enter Laughing
One-man-show
Chorus #1/Soloist
Mayor Tyson
Frenchman #2(principal)
Vicarro (principal)
Yephikhodov
Tully (principal)
Will (principal)
David (lead)
SD Actors Fest. / Celeste Innocenti
Fritz Theatre / Chris Wylie
OnBookOnStage / Marc Overton
Heads On Fire / Xavier Leonard
SDSU / James Dublino
Foxrock Theatre / Rene Marrero
WhoDunIt Players / Mike Stevens
Playwrites' Theatre / Mary Haas
Stagecrafters / Arnie Shayne
CHILDREN'S THEATRE:
How Loud is Silence?
Tales from the Ship '99 & 00
Kids' Night Out '98,'99 & 00
This is Not a Pipe Dream
Collaborator
Mariner/Storyteller
Collaborator
Leopold ... etc. (principal)
Imagination Express / Rosemarie Ballard
San Diego Maritime Museum / Joe Dittler
SD Actors Festival / Rosemarie Ballard
Theatre of the World Festival / Maggie McKerrow
FILM:
Actors Study of Anger
Turnaround

Arthur (principal)
Max (lead)
CSPP/Toni-Ann Cafaro
SDSU/John Bradford Goodman
DIRECTING:
Alexander, who was rich...
TV Land
Archipelago
Medusa's Tale
Mazel Tov
Frogs
Director/Teacher
Asst. Dir.
Writer/Director
Director
Writer/Director
Actor/Director
Harborside Elementary
EF Language School/Celeste Innocenti
Pershing Middle School w/Terry Miller
SDSU
Kellogg Centre for the Arts
SDSU
DRAMATURGY:
Lady's Not For Burning
Ladies of the Camellias
Loves Labours Lost
The Me Nobody Knows
Cherry Orchard
OnBookOnStage
SDSU
SDSU
SDSU
Foxrock Theatre
Marc Overton
Michael J Harvey
Randy Reinholz
CJ Keith
René Marrero
PROPERTIES:
Dead to the Last Drop
A Thousand Clowns
A Life in the Theatre
The Light Princess
Refuge of Lies
Godspell
Props Master
ASM & Props
ASM & Props
Props Asst.
Props Asst.
Props Asst.
WhoDunIt Players
Showboat Majestic
Theatre & Co./Scadron-Wattles
Theatre & Co./Scadron-Wattles
Theatre & Co./Scadron-Wattles
Theatre & Co./Scadron-Wattles

VOICE:
Tenor/Baritone
Excellent Diction
Accents & Dialects
Back to Home Page|