Page 2
HOME| About Imagination Express | 2 | 3 | Rosemarie Ballard | Judah Buxton | Eric George | Performance List | Reviews | Photo Album | Links E mail-ie@ieallaboard.org

The Players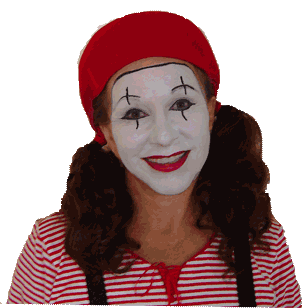 ROSEMARIE BALLARD, Director 1997-2005
Rosemarie, is the founder of Imagination Express... All-Aboard. She is a Master Mime with twenty five years of experience. She studied and taught with Bill Virches at Southwestern College. She taught Mime for the San Diego State Foundation, The San Diego Creative and Performing Arts Center, San Diego Junior Theatre and Christian Youth Theatre. Rosemarie travels all over the USA teaching Miming For Clowns for The World Clown Association, The Western Regional Clown Convention and The Riverside Christian Entertainers Conference. She is also an Impersonator with high recognition in the US. She was a guest speaker at the Celebrity Impersonators Convention at the Imperial Palace in Los Vegas. She has performed for major companies: IBM, Porsche, Target and The Incredible Universe to name a few. She is passionate about Mime and her goal is to advance the art form.
You can buy her Illusion of Mime and Mime Make-up DVD's/Video's on line at www.mimevideo.com. Mime Video
Her personal Web page is www.rosemarieballard.com Rosemarie Ballard
Her motto is: Quit Smoking and LOVE LIFE.
Resume []
Email: rosemarie@cox.net

Fax or phone: (619) 482-8856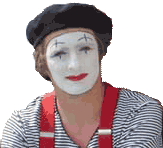 JUDAH BUXTON Judah is a talented actor, mime & teacher. He graduated in 2004 with his Bachelor of Arts degree in Theatre from SDSU. He was trained in mime at Southwestern College by Bill Virchis and Rosemarie Ballard. He is the Artistic Director for the Center of Learning, a private school with the Church of His Kingdom. He also teaches Mime and acting for Christian Youth Theatre. He is passionate about Mime and working with youth.
He believes that you should:
FOLLOW YOUR DREAMS and NEVER GIVE UP.


Judah's Web site
Creative Craze

Resume [ ]
Judah Buxton has been acting and performing for over fifteen years. He began on stage as a drummer in 1990 at age twelve. At age fourteen he began acting, and by fifteen he was touring children's theatre into local elementary schools. At age eighteen Judah became intrigued with the world of mime and silent story telling. By nineteen he was co-founder of Imagination Express, San Diego's only mime troupe. For nearly a decade Judah has made his mark as a mime upon stages throughout Southern California. Whether it is elementary schools or corporate events, Judah's charisma and comic timing have captivated audiences of all ages. At age eighteen Judah also began teaching theatre and directing plays at In 2004 Judah delved into the colorful art of clowning. He is trained in balloon sculpture, magic, and face painting. These skills, along with the physical comedy of mime and his love for children, have made Judah an instant success as a clown. His years of working with children as a performer and as a teacher have given Judah a sensitivity to the needs of children, and help him to "clown around" with children of all ages. Contact Judah if you would like to see him in your next production, birthday party or event. Centers of Learning by the Sea—Extended Program, a private school in south San Diego at which he still teaches. At age 20 he began teaching theatre and mime for Christian Youth Theatre, and taught classes for several years. Judah has also taught mime to children through the Old Globe Theatre in San Diego. Judah loves children and will continue teaching for as long as he can. A child's innocence, honesty, and spirit of discovery will always be an inspiration.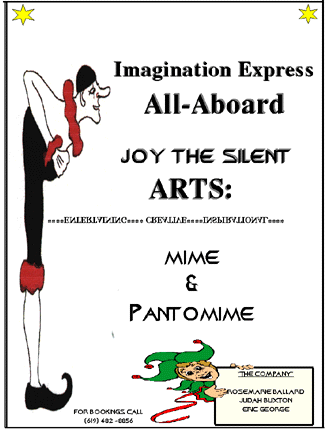 HOME| About Imagination Express | 2 | 3 | Rosemarie Ballard | Judah Buxton | Eric George | Performance List | Reviews | Photo Album | Links E mail-ie@ieallaboard.org